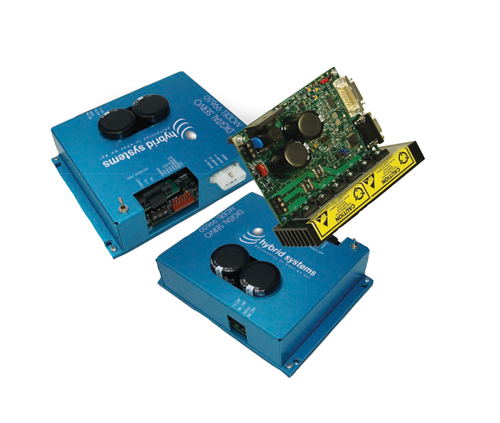 220VAC model available.
High production quantities are available
Electrical Specification
Input Power: 120VAC, 15A
Output Current: 14 Amps cont, 40 Amp Pk
Operation Mode: RS232 or Stand-alone
Speed: 5K pot or Iso Analog input 0-5Vdc or RS232 input
Accel/Deccel: Programmable
Digital loops: Current, velocity, position
Sample Rate: 100uS min, Programmable
Auxiliary Inputs: 4 digital inputs. isolated programmable functionality
Auxiliary Outputs: 3 digital outputs, isolated programmable functionality
Commutation: Halls four quadrant or sinusoidal
Encoder: A, B, Index differential or single ended max counts 4096 pulses per revolution 5V dc at 150mA
Status Indicators: Power Good LED, Amp enable LED
Protections: Current Limit, Loss of voltage, Temp cut off, Short circuit, Locked rotor, E-stop, Fused input 16A/250V
Regneration: Optional with external dumping resistor
Mechanical Specification
Temp Range: 0-50 Deg C operating -30 to 65 Deg C storage
Dimensions: 2.0"Hx4.0"Wx5.0"D
Finish: Black Anodize
Terminations: IEC screw type T.B. High Density I/O conn.
Weight: 1.0 Lbs
Cooling: Natural Convection or forced cooling for 1/2 h.p. or higher applications
Product Sheet