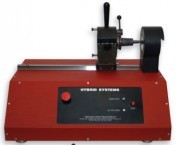 Shrink Fit Process
Shrink Fit technology has been around for many years and increasingly growing in demand. The process is simple, it works by utilizing a tool holder that has an inside diameter that is smaller than cutting tool shank itself. By rapidly applying heat to the tool holder, the inside diameter of the tool holder expands allowing the tool to be installed or replaced with ease.
Users
HAAS Automation, D&D Tool Supply, Mazak, B&B Manufacturing, Parlec
Electrical Specification
Input Power: 3 PHASE 208V AC, 28A
Output Power: 10 KV A
Mode of Operation: Pre-set for plug & play
Protections: Line Voltage spikes, Loss of voltage, 3 Phase line filter, 3 Phase Circuit Breaker
Features: Tool out in less than 10 seconds, Easy to use, E-stop, Fan cooled oil, No shop air, no liquid coolant used, Repeated use 200+ daily, Rugged tool holder side rail, Will operate near Heavy Machinery
Mechanical Specification
Temp Range: 0-50 deg C operating , -30 to 65 deg C storage
Tool Sizes: 1/4" to 1 1/4" dia
Tool  Holder Types: BT40, BT50, CAT50V, CAT40V, HSKH63, HSKH100etc.
Dimensions: 12"H x 22"W x 14"D
Finish: Rugged industrial finish
Weight: 67 Lbs
Product Sheet